A JEWEL GOES TO HEAVEN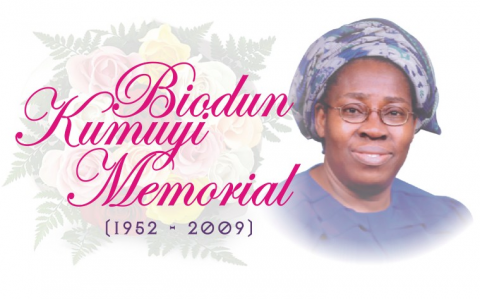 One day, in September 1972, a precocious man, approached a young lady in the streets of Lagos, Nigeria. He struck a conversation with her, and expertly steered the discussion towards a subject that was altogether new to the young woman. He told her about the lost state of all human beings; their helplessness in the face of domineering sinful habits; and the futility of any self-help effort to make a lasting change in their situations.
As she listened attentively, he proceeded to explain that man's condition had turned him against God, his creator. But he quickly told her the story of God's love and interest in reconciling estranged human kind to Himself. He truly caught the interest of the young woman, who was soon confessing her sins, pleading for forgiveness and receiving Jesus Christ as her Lord and Saviour.
That young woman was Abiodun Olowu, at the time, a high school student in Lagos. She knew no church but wanted to learn more about the God that had changed and transformed her life. Through divine providence, she got introduced to a young University of Lagos lecturer in Mathematics, who was passionate about organizing youths to meet with and serve the Lord. Abiodun was to be one of the privileged fifteen persons with whom the lecturer started the Bible Study group in 1973, which has remained till this day. The venue was Flat 2, University of Lagos Staff Quarters, deep inside the campus in Akoka, a suburb of Lagos.
It was the home of William F. Kumuyi, who will later become General Superintendent of The Deeper Christian Life Ministry, and Pastor of the Deeper Life Bible Church. Abiodun, then 20, wasted no time in settling down to digest the systematic and expository study of the Bible series undertaken by the Bible Study leader, as Pastor Kumuyi was then known. Thus, began for her, a journey that was destined to alter the course of her life forever.
Born to the Olowu family of Epe on January 7, 1952, Abiodun attended Baptist Primary School, Surulere in Lagos. She had her secondary education at the New Era Girls' Secondary School, Lagos where she obtained her West African School Certificate. Thereafter, she proceeded to the Federal College of Education, Akoka, Yaba, Lagos, where she read Business and Secretarial Studies.
On September 13, 1980 in Lagos, Abiodun married her erstwhile Bible Study teacher, Pastor William Folorunsho Kumuyi. He had defied all pressures from friends and family concerning marriage, preferring instead to pray and wait for God to direct him to the partner He had chosen specially for him. God answered that prayer in Abiodun. The marriage was blessed with two sons, Jeremiah and John, both of whom were dotted upon by their beloved mother.
That marriage expectedly thrust upon her the role of a helper to her Pastor- husband. Naturally, she threw herself into the Women Ministry of the church. Through that ministry, multitudes of women were saved from their sins, and obtained other Christian experiences of sanctification and Holy Ghost baptism. Many became missionaries and preachers in their own right. The women ministry under her leadership saw the restoration of peace, joy and love to many homes, and reconciliation in many broken marriages and lives.
An energetic, dynamic and visionary woman, Abiodun Kumuyi, who was fondly called Mummy or Mama by members of the church, spear-headed the establishment of the Christian Women Mirror magazine. She used the magazine to teach women all they needed to know to be successful wives and mothers, accomplished and exemplary Christians and models of excellence. The magazine for which she was editor-in-chief until her demise, has become so popular that it is circulating far and wide and is highly sought after by readers who are no longer restricted to women.
Like every true child of God, she seemed to have had an inkling that the Almighty God was about to call her home. Speaking on the phone from her sick bed on Tuesday, April 7, 2009, she told her younger son, John: This is the last stage. He did not understand what his mother meant, but only realized after her transition to glory that she was passing a parting message to him.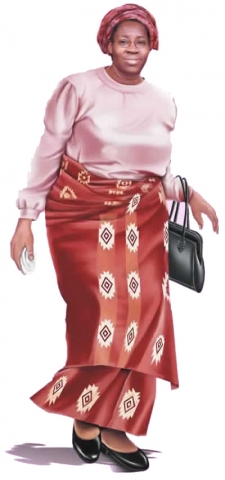 Not even sickness would dampen her love and commitment to the Lord she served so faithfully and dutifully. She was unable to attend the Church's Easter Retreat that year because of her sickness. But the messages from the venue of the retreat were transmitted to her by satellite in her home at the International Bible Training Centre, Ayobo, Ipaja, a suburb of Lagos.
On the morning of Saturday, April 11, 2009, she woke up as usual and joined the Faith Clinic session from the retreat venue on the Lagos-Ibadan Expressway. As she listened to her husband leading the congregation in soul-stirring hymns, she joined and sang with a surprisingly strong and clear voice. All her weaknesses seemed to have disappeared. Her face glowed as she sang along:

There is a new name written down in glory,
And it's mine, O yes, it's mine!
And the white robed angels sing the story,
A sinner has come home.
For there's a new name written down in glory,
And it's mine, O yes, it's mine;
With my sins forgiven I am bound for heaven,
Never more to roam.
Those taking care of her were over-joyed at the sudden transformation. They watched as she sang happily, then, settled down to listen to the Pastor's Message titled: The Shield of Faith, which stressed protection for believers, pulling down strongholds and preservation in the shelter of the Almighty Father. At the end of the message, she became engrossed in the prayers that followed; and as soon as she heard the final In Jesus Name, she said, Amen. Then, she turned her face, shut her eyes, and passed to glory.
She will be sorely missed as a loving, caring and amiable mother who was very fond of not just her two sons and husband, but the entire Deeper Life family. She was always together with the General Superintendent. They traveled together and worked together. He rarely got to any place without her companionship. Her commitment to the Lord was infectious and her love for God's word was deep-seated. She touched many lives positively. No doubt, she has fought a good fight, she has finished her course, she has kept the faith. Praise God for a life well lived.